If you've been injured in a car accident, you may feel overwhelmed by the decisions confronting you. Even a moderately severe accident can require surgery, physical therapy, and time off from work for recovery. Unless you've been through this before, it's difficult to know how to proceed.
Under Arizona law, if another party's negligence caused your injuries, you are entitled to compensation. The Tucson personal injury lawyers at Wattel & York are here to help. As Tucson personal injury attorneys, we work on a contingency basis, so you don't have to pay out of pocket. All consultations are free, so call today for a free case evaluation.
Why You Need a Personal Injury Lawyer
During the claims investigation carried out by the at-fault driver's insurance company, the adjuster is tasked with identifying these damages and making a settlement offer to the victim to — seemingly — repay the victim for all the damages they have endured.
The truth of the matter, however, is that these initial personal injury claim settlement offers are nowhere near the amount that the victim needs for a full financial recovery. Settlement negotiations may take longer, but personal injury attorneys can usually help their clients recover far more significant sums than if they accept initial offers.

If you have suffered accidental injuries, you deserve fair compensation. Our Tucson personal injury attorneys can help you do more than just cover medical expenses and lost wages. Our legal team helps injured victims recover damages for their full medical care, including aftercare, prescription medicine, medical equipment, in-home care, mental healthcare, etc.; lost wages and diminished future earnings; past and future pain and suffering; and more. Contact a Tucson personal injury lawyer at Wattel & York for a free consultation.
Why You May Want a Personal Injury Attorney
No accident legally requires a personal injury lawyer. For instance, motor vehicle accidents often don't result in physical injuries. If that's the case, you can file a claim against the insurance policies for property damage repairs. In many situations, however, car or truck accidents can cause injuries. You may experience substantial medical expenses, lost wages, diminished capacity, and pain and suffering. In a wrongful death incident, you may face lost future earnings, emotional anguish, and loss of companionship.
So, why hire a personal injury law firm to pursue your claim? Whether you are trying to receive compensation from an individual, a business, or their insurance company, defendants in personal injury claims have a vested interest in minimizing their payouts. You probably don't have extensive legal experience and knowledge to pursue your personal injury claim, and the other party will likely use that to pressure you into accepting a lower amount than you're entitled to despite your legal rights.
On the other hand, a personal injury law firm with experienced attorneys in relevant practice areas can assess your damages and negotiate for a full and fair settlement. Many of the best personal injury lawyers in Arizona work on a contingency basis, which means they only receive compensation if your case settles or you win in court. Typically, the increased settlement amount also covers the law firm contingency fee. As the victim of negligence, you should not have to pay for a top-tier legal team from your own pocket. Schedule a free consultation and speak to a personal injury attorney about your case.
Elements of a Personal Injury Case
For a personal injury lawsuit to be viable, the plaintiff's law firm must be able to prove that the following four elements exist.
1. The Defendant Owed a Duty of Care to the Plaintiff
Individuals are responsible for their safety, but there are many times when we also owe a duty of care to one another. A driver who gets behind the wheel, a doctor offering medical treatment to a patient, and a store or restaurant owner who serves the public all owe a duty of care to those around them.
2. The Defendant Breached the Duty of Care
To successfully sue a defendant, you must demonstrate how the defendant breached their duty of care. For example, in a car accident case, you would need to show that the action that led to the injury stemmed from another driver's negligence. Collecting evidence at the scene can help establish that someone else's negligence caused your injuries.
3. The Breach Resulted in Damages to the Plaintiff
Without damages, there is no basis for a lawsuit. For personal injury claims to be actionable, you must show that the defendant's breach of their duty of care adversely affected you. Car accident victims may suffer injuries ranging from minor cuts and bruises to paralysis. Proper documentation is the key to proving this element.
4. The Plaintiff's Damages Had a Measurable Impact
You must be able to assign a monetary amount to your damages. To do this, you will need to prove the economic and non-economic damages you sustained due to the accident. Personal injury attorneys get specific training on assessing damages in law school, which they frequently practice during personal injury litigation.
Personal Injury Laws of Arizona
Every state has its own personal injury laws regarding car accidents. If you are familiar with the laws of another state but were injured in Arizona, it's beneficial to familiarize yourself with Arizona car accident laws.
Types of Personal Injury Damages
Arizona personal injury law divides damages into two main categories: economic damages and non-economic damages.
Economic Damages
If you're injured in a car accident, you could face a torrent of medical bills, miss time from work, and have to pay for other expenses like medication, follow-up appointments, and transportation. These are referred to as economic damages. Anything you can assign a monetary value to would qualify under this category.
Non-Economic Damages
Non-economic damages are often referred to as pain and suffering. These damages include physical pain, loss of physical capacity, and emotional distress. In the case of wrongful death, they can also include loss of companionship or mentorship. A personal injury law firm like Wattel & York Accident Injury Attorneys can review the intangible costs of your accident and determine the appropriate amount of compensation that you're entitled to.
Punitive Damages
Arizona does allow punitive damages under the law, but they are rare in most car accident personal injury cases. To recover punitive damages, the defendant's actions must have been especially negligent, reckless, or purposeful..
Damage Caps in AZ
Under Article 2 Section 31 of the Arizona state constitution, no law caps what damages you can recover for your injuries. There are case law guidelines that dictate the damages you would likely receive in court. All economic damages have to be backed by an expenditure (i.e., medical bills, car repair bills, etc.) or a reliable estimate. Non-economic damages are more difficult to assess, but an experienced personal injury attorney will know what past cases have yielded for similar items.
Statute of Limitations Under Arizona Law
For personal injury cases in Arizona, the statute of limitations is two years from the car accident date. After that time, you will not be able to sue the defendant. However, in wrongful death cases, the clock starts on the date of the victim's death, regardless of when the underlying accident occurred.

This is one of the reasons why you need to contact our Tucson personal injury attorney at your earliest convenience. While two years may seem like a long time, a great deal of preparation goes into personal injury matters. Even the best personal injury lawyers in Tucson, AZ require time to gather medical records, depose witnesses, prepare a demand letter, and negotiate for a full settlement. Additionally, the civil court system around Tucson, AZ, is often backlogged, which means it could take time to get your legal matter on the docket. Give our Tucson personal injury lawyers the time we need to seek justice on your behalf by contacting us ASAP.
Legal Principles in Arizona Personal Injury Cases
The following information only applies to Arizona civil law. If your accident occurred in another state, seek out the legal services of a personal injury law office in the appropriate jurisdiction.
Fault vs. No-Fault
While some states work under the no-fault principle, Arizona is a fault car accident state. This means the person who caused the accident is responsible for the damages that follow. In a pure comparative fault state like Arizona, you can collect money from an accident even if you are 99% at fault and the other party is 1% at fault. You would simply be able to collect a net 1% of your damages from the other party's insurance company.

This is common in automobile accidents. For example, suppose your personal injury case involves a car accident where the other driver ran a red light, but the accident reconstruction shows that you were speeding, presumably making the accident worse. In that case, the court may attribute 80% of the negligence to the other driver and 20% to you. That means the damages you collect would be 80% of the agreed-upon amount.
A Tucson car accident lawyer can fight to prove you had a lesser percentage of fault than the other party to maximize your claim. The insurance company will then pay out based on the percentage of liability each party is apportioned. Our car accident attorneys can ensure you get the money you are entitled to.
Compensable Damage Calculations
Compensable damages are the amounts that you can collect to reimburse you for economic and non-economic damages. While insurance adjusters frequently argue about economic damages, personal injury attorneys can back up the amounts in their claims by showing actual receipts or using well-established calculation practices.

On the other hand, non-economic damages like physical pain, emotional trauma, loss of consortium in wrongful death cases, loss of physical and mental capacity to the injured party in cases involving catastrophic injuries, etc., can be much more difficult to calculate. Insurance companies will expend tremendous resources to push back against these types of damages.

This is why you need the legal services of the best law firm you're able to find to pursue your claim.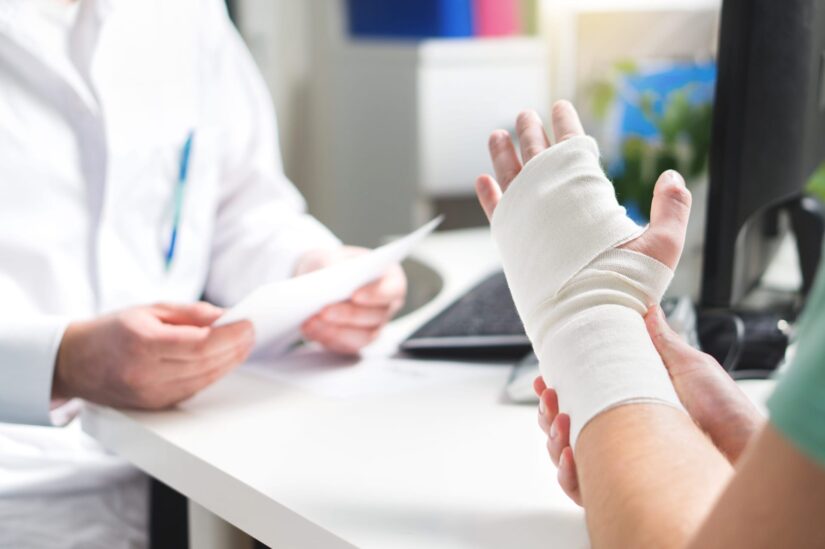 AZ Accident Statistics
According to the National Safety Council, unintentional deaths hit an all-time high in 2017. Many of these wrongful deaths resulted from the types of accidents that the Tucson personal injury lawyers at Wattel & York deal with on a regular basis.
Car Accident Statistics
Auto accidents continue to be one of the most prolific sources of accidental injuries and deaths.
In 2019, there were 129,750 motor vehicle crashes in the state of Arizona. Of these, 39,926 (28%) resulted in injury. There were also 911 deaths due to auto accidents. Over 85% of all accidents involved more than one vehicle. The 911 accidents resulted in 982 deaths, with pedestrian accidents, motorcycle accidents, and bicycle accidents being particularly deadly.
While accidents involving cars, trucks, and other vehicles tend to be a high source of injuries, there are many other ways that individuals get hurt due to the negligence of another.
If you've been injured in an accident in Tucson, AZ or the surrounding areas, contact our law firm and speak to a personal injury attorney about your case. We work on a contingency basis, so you will receive a free consultation.
Personal Injury Practice Areas
The following is a list of our general practice areas. Personal injury law is complex, and there are many more specific types of cases. If you have a question about your particular personal injury case and the legal issues of making a claim, contact our Tucson office for a free consultation.
Motor Vehicle Accidents
Car accident injury law can be extremely complicated. While most vehicle accidents are covered under the respective driver's insurance policies, the adjusters who work for auto insurance companies work diligently to minimize any claims. A Tucson personal injury lawyer can examine the police accident report; subpoena the other drivers, the police officers, and other witnesses for deposition; and hire the accident reconstruction experts necessary to pursue a car accident claim. Here are some of the categories of motor vehicle accidents we see at our Tucson, AZ firm:
Car vs. Car
Two-car or multiple-car collisions are by far the most common type of accident and are responsible for more deaths and injuries than any other type of motor vehicle accident.
Truck Accidents
Because of their enormous mass and the fact that they often transport hazardous materials, the federal and state regulations for commercial trucking are far more rigorous than for personal vehicles. Our personal injury attorneys can collect driving logs, schedules, etc., to determine whether the driver complied with all laws and regulations.
Motorcycle Accidents
Motorcycles are capable of traveling at high speeds but offer little physical protection. If you are riding a motorcycle and an accident occurs, chances are high that you will sustain injuries. If someone else's driving caused the accident, you might be entitled to substantial compensation.
Bus Accidents
Buses present unique dangers to the occupants. Even if there isn't a collision, a sudden stop can cause the passengers to lose their balance or pitch forward. Common passenger injuries include head injuries, broken bones, and whiplash.
Bicycle and Pedestrian Accidents
Cyclists and pedestrians have no physical barriers to protect them from vehicles. Consequently, these accidents often lead to catastrophic injury. Your attorney can pursue damages through the at-fault driver's insurance policy.
Slip and Fall Accidents
Slip and fall accidents are so prevalent that the U.S. Department of Labor, Bureau of Labor Statistics tracks them on an annual basis.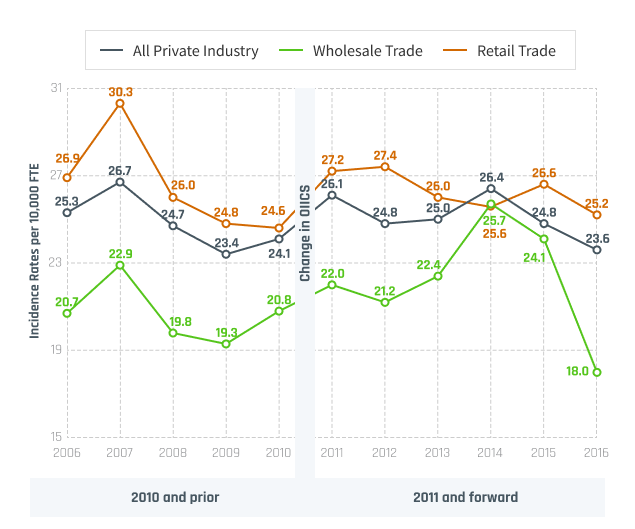 Also referred to as premises liability, slip and fall includes many different types of accidents that occur in public spaces. Although slips, trips, and falls are the most common, premise liability cases also involve falling items, unsecured electrical hazards, etc.
Product Liability Accidents
The manufacturers and distributors of products have a legal obligation to ensure that they're not only safe for consumer usage but also have the proper labeling and instructions. Our Tucson personal injury law firm represents clients who have been injured due to design defects, manufacturing defects, and improper labeling or instructions.
Workplace Injuries
Most workplace injuries are covered under the employers' workers' compensation policies. Arizona has a no-fault system, which means that you are covered whether you were responsible for your accident or not.
Medical Malpractice
Doctors and healthcare providers are responsible for providing you with responsible medical advice and care that's consistent with the standards of the healthcare industry. Medical malpractice can involve misdiagnosis, prescription errors, medical implements left inside of the patient, and much more.
Wrongful Death
Nothing can compensate you for the loss of a loved one, but if you have lost a spouse, child, parent, family member, or significant other, you may have grounds for a wrongful death claim. Damages in wrongful death actions can include factors that are not present in other personal injury claims, like loss of consortium, loss of future earnings, and funeral expenses. Wrongful death litigation can be complicated, so contact an attorney immediately.
Dog Bites
Dog owners are responsible for keeping their pets from attacking people and other animals, particularly in public spaces. If someone else's dog has attacked you, you can issue a claim. Call a Tucson, AZ injury lawyer to discuss the specifics of the attack and the injuries you suffered.
Negligent Security
The custodians of public and semi-public spaces must ensure the safety of their guests. This includes having adequate lighting, fencing, security cameras, etc. If you have been injured or attacked on the property of another, you may have a legal case.
Nursing Home Abuse and Negligence
There are dozens of nursing homes in and around Tucson, AZ, and for the most part, their staff are dedicated to providing proper care to the residents. However, nursing home neglect and abuse are alarmingly common. Negligence can include falling behind on a resident's meal and medication schedule or failing to stick to a care plan. Abuse can include anything from verbal abuse to physically harming the residents.

Elderly and disabled people are entitled to their dignity and to receive high-quality care. If you believe that a nursing home is falling short of that standard, our attorneys will start the legal process to hold the responsible parties accountable.
Personal Injury Frequently Asked Questions
As a personal injury law firm in Tucson, AZ, we encounter many accident claims. While no two accidents are the same, our potential clients' questions are often similar. Here are some of the most frequently asked questions we receive. Nothing on this site should be construed as legal advice, but you can speak to the team at Wattel & York Injury & Accident Attorneys about your accident during your free consultation.
My insurance company is offering me an immediate settlement. What should I do?
Most individuals can't afford to miss work and pay for their medical bills while they recover. Because insurance companies are aware of this predicament, they are often quick to offer the lowest possible payout to limit their liability and settle before the claimant can speak to an attorney. If you accept their offer, you will be required to sign a waiver of liability, which prevents you from pursuing any further damages. Before accepting any offer, you should contact our law firm in Tucson, AZ, and talk to one of our personal injury lawyers.
Will I be required to testify in court?
Most personal injury cases are settled out of court. There is always the possibility that your case can end up in litigation, but it's less likely than reaching a settlement. It is likely, however, that the opposing counsel will want to depose you before agreeing to a settlement. If you do have to go to court, consider having a battle-tested Wattel & York attorney in your corner. We will work tirelessly to help recover compensation for you.
How long does an Arizona insurance company have to acknowledge my claim?
An insurance company has ten business days to acknowledge your claim and send the policyholder the appropriate paperwork. These days are critical, so you will want to contact a personal injury lawyer during this time if you haven't already.
How long do they have to make a decision on my claim?
After receiving your paperwork, the company will have 15 business days to investigate and make a decision regarding your claim. Again, it's essential to have representation in place before your claim is processed. If you don't, contact Wattel & York in Tucson, AZ, immediately. All consultations are free, and we can initiate the attorney-client relationship immediately.
How long does it take to receive a settlement?
The settlement time depends on several factors, including the case's complexity, the type of case, and the reluctance of the insurance company or responsible party to settle. If your claim is approved, they have 15 days to pay. Certain cases take longer, and as a rule, the greater the amount you are seeking, the less likely the defendant will want to pay. Cases with more serious injuries may take longer to settle.
What should I do if I'm in a car accident?
There are certain things that you can do to protect yourself and help your case should you need to file a claim:
Get to a place of safety if you could face additional danger.
Call 911 and give the dispatcher your location, a description of the injuries of all parties involved, and any other information they ask for.
Take pictures and videos of the damage to each vehicle with your phone.
Talk to witnesses and get their contact information.
Allow medical personnel to examine you and take you to the hospital if necessary.
Follow up with your doctor.
Save all medical documentation, including the doctors you see, treatments received, and medications prescribed.
Document any additional expenses that you have incurred resulting from the accident.
Call Wattel & York Injury & Accident Attorney.
What steps should I follow if I'm in a slip-and-fall accident?
Like car collisions, there are measures you can take to protect your case and speed up your recovery:

Call 911 to get EMTs to your location as quickly as possible.
Take images of the accident location before the management has a chance to clean it up.
Tell the manager of the property that you want to complete an accident incident report.
Note the location of any CCTV cameras that may have captured the incident. Ask the manager to preserve the recording.
Allow EMTs to examine you and transport you to the ER if necessary.
Follow up with your doctor.
Call our Tucson, AZ law firm to discuss your claim.
What if I can't afford an attorney?
The good news is that the best lawyers in personal injury all work on a contingency basis. That means that their law offices only get paid if they win their cases via settlement or litigation. You should always ask for a contingency fee schedule before committing to a law firm.
In Arizona, contingency fees have the following constraints:
25% of recovery amounts up to $10 million
20% of any portion between $10 million and $15 million
15% of any portion between $15 million and $20 million
10% of any portion between $20 million and $25 million
5% of any portion that exceeds $25 million
Why shouldn't I take an initial settlement offer?
While you could accept the insurance company's settlement offer and recover damages quickly, you will probably be getting far less money than you would with one of our seasoned personal injury lawyers.
Personal Injury Lawyers in Tucson, AZ
With multiple law offices in Arizona, California, and Washington, Wattel & York, Attorneys at Law have the resources and years of legal acumen to represent you in your case. If you've been injured in an accident, you may be entitled to substantial damages. Only an experienced personal injury lawyer can help you get a full and fair settlement. We will get a settlement from the liable insurer or litigate your case in the district court. Contact our Tucson, AZ, law office, or if your accident has occurred in another area we serve, call one of our regional law offices for a free consultation.