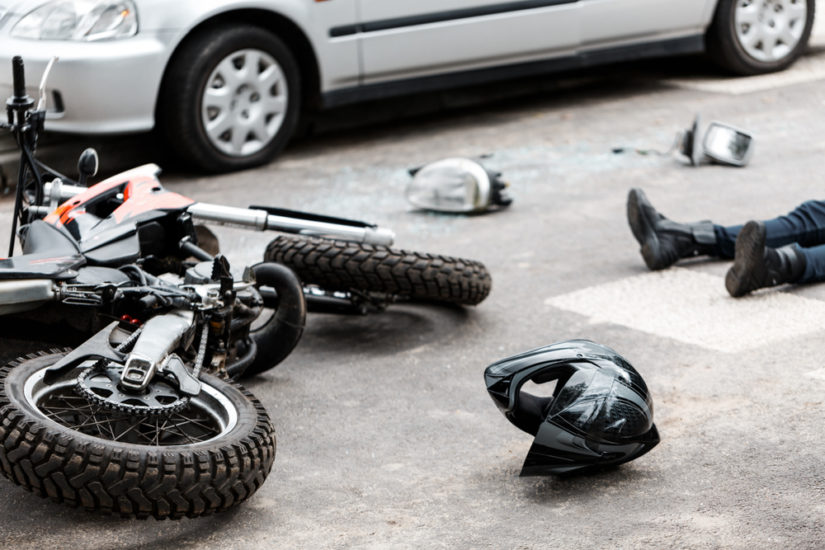 Tragic accidents commonly happen to motorcyclists due to another driver's mistakes. About 75% of motorcycle crashes involved a collision with another vehicle. Additionally, 60% of these accidents are because the other driver violated right-of-way laws. In most accidents, the weather is not even a contributor to the motorcycle crash. However, not many motorcyclists receive the total compensation they are due and are often awarded less than a car driver. This is despite the fact motorcyclists are at higher risk of death after a motorcycle crash and are 27 times more likely to experience a fatal accident than car accidents.You can work with a law firm with a proven track record to help you receive the compensation you deserve.
You can work with a reliable motorcycle accident attorney who can give you legal advice about your motorcycle accident. Attorneys are very knowledgeable in accident law and can fight for your right to receive compensation from the other party's insurance company. Contact Wattel & York today for a free consultation.
What a Phoenix Motorcycle Accident Lawyer Can Do For You
Whether you were wearing a helmet or not matters in your compensation amount. According to Arizona state law, only riders under the age of 18 are required to wear a helmet while operating a motorcycle. Your attorney will help you understand what your settlement amount is based on your unique motorcycle accident case.
How a Phoenix Motorcycle Accident Lawyer Gets Compensation For You
Motorcycle accident victims are often undergoing a massive amount of stress after an awful motorcycle crash. When you are burdened with wage loss, medical bills, and severe wounds, it can be hard to talk to the other party's insurance company with a clear mind. This is why your attorney can do the work for you and initiate your personal injury claim with insurance companies professionally and efficiently.
What to Expect At An Initial Consultation With a Personal Injury Law Firm
Your attorney will perform a case review of your damages and identify what would qualify for a settlement. Motorcycle accident victims aren't entirely aware of what damages they can claim. You will be asked a series of questions by your motorcycle accident attorney to figure out what the other driver is at fault for. Arizona is an at-fault state, and because of this, the other driver is only liable for the percentage of the damages they caused. So if you were 10% at fault for not wearing a helmet, the other driver would be responsible for covering 90% of your damages. After a quick review of your personal injury, the law firm will decide if they can move forward with your case. Motorcycle accident cases are often due compensation because, in most scenarios, the driver is partly or entirely at fault. For example, about 40% of motorcycle crashes are caused by other vehicles making left turns in front of motorcycle riders.
Your Personal Injury Law Firm Will Draft All Documentation
When dealing with motorcycle crashes, there is a lot of legal paperwork involved. Accident law can be complex, and your attorney has to use the evidence from your personal injury to secure a fair settlement. They will include all of the information you provided and ensure that each compensated item is made clear to the other parties. Honest and direct information supported by evidence is what will prove your case. Your attorney uses documentation to prove that the other party is responsible for your injuries. They organize all of the paperwork and provide everyone with accurate copies of your claim.
Accurate Settlement Calculation
After your case review, your Phoenix motorcycle accident attorney will begin the process of estimating what settlement you may be due. Motorcycle riders don't know what can be claimed under their settlement, and when approached by insurance companies, they often accept an offer worth far less than their damages. This doesn't have to be you. Consult with your attorney so they can help you get a fair estimate for your economic and non-economic damages. For example, if you are wearing a helmet, this can improve your compensation. In motorcycle accident cases, helmets are believed to help prevent fatal injuries by 37%. If you weren't abusing any substance and practicing safe driving habits, this will also help your personal injury claim. The less you are at fault for, the higher your settlement amount will be.
Your attorney will use a multiplier based on how severe the motorcycle accident was to estimate your settlement. For example, if you only had a broken leg and nothing else, this may range between 1 to 1.5; however, if you suffered a brain injury and permanent disability, the multiplier may be between 5 to 7. This is entirely based on the medical expenses, your wounds, and how much you are at fault for. You can ask your law firm for more information about this process.
Investigation of Your Damages
Your attorney is also an investigator who will review all of the evidence you provide them. They will review your medical records, ask you questions about your pain and suffering, and determine if the other driver was breaking road laws. For example, your attorney can request that the collision data from the other car is collected from its recorder to discover how the car was performing before the crash. They may discover the other driver's car may have been speeding or malfunctioning before the accident. Your attorney can also request a subpoena of the other driver's texting data to see if they were distracted at the wheel. All of this data is key and provides proof for who is at fault.
Negotiation With Other Parties
Motorcycle accident attorneys are great communicators and will negotiate a settlement with other involved parties. This is incredibly helpful when you are recovering from your personal injury and struggling to get better. It is hard to focus and put together your argument when you are still suffering. Your attorney will represent your case and fight for your right to receive a settlement for as long as it takes.
Representation in Court
If the other party decides not to settle, your motorcycle accident lawyer can file a lawsuit for you. While this may be unlikely, as most personal injury claims settle outside of court, there is always the chance this may happen to you. Your attorney will represent your case before the judge and help improve your chance of receiving compensation by pointing out critical aspects of your damages.
Valuable Advice
Your law firm can provide you with legal advice to prevent you from making common mistakes. For example, you shouldn't accept cash at the scene of the crash. You also should decline to talk to the other party's insurance company. This is because they can use anything you say against you to lower your settlement, and they may offer you a lump sum that is worth far less than your damages. So instead of being stuck with a smaller amount than you are owed, you can have your attorney represent you to the other parties to protect you from these errors.
What Will a Phoenix Motorcycle Accident Attorney Include On My Personal Injury Claim?
Your attorney is well-versed in what costs can be compensated. All of your economic and non-economic damages should be included. In addition, wrongful death and punitive damages include additional damages that significantly increase the settlement amount.
Economic Damages
Your injuries may require a great deal of medical treatment, and the costs can sky-rocket.
These damages include all expenses, such as medical bills, image scans, lab tests, follow-up visits, pharmaceuticals, physical therapy, and other treatments. All of these items can be compensated for. You will also need to include your wage loss. In addition, the amount of time you missed from work due to your injuries is money lost and should be included in your settlement. This consists of all of the time off from work you believe you will need in the future.
Non-Economic Damages
The property damage done to your bike during a motorcycle accident is only a fraction of your settlement, as your non-economic damages will be worth far more. Non-economic damages are mostly made up of pain and suffering, and this will include your emotional anguish as well as physical discomfort. You may be suffering from anxiety, PTSD, depression, shame, guilt, and embarrassment. As you recover, you may be suffering from backache, stabbing pains, achiness, soreness, and fatigue. All of these things are due compensation, as you wouldn't have experienced them had you not experienced a troublesome motorcycle accident.
Punitive Damages
You may be due additional punitive damages in your settlement in the unfortunate situation where you experienced aggravated driving or road rage. Aggravated driving can be punished legally, as the other driver is intoxicated or involved in some kind of substance abuse. However, if you can prove that the other driver was angry and had malicious intent on harming you, this will also be considered punitive damages. For example, 82% of drivers admitted to being involved in road rage, where aggressive drivers cause 66% of fatal accidents. Punitive damages vastly increase settlement amounts, and they also serve as a punishment for the driver who was acting obscenely neglectful.
Wrongful Death Damages
These damages are the result of your loved one passing away due to a fatal traffic accident. Wrongful death damages are compensated at the highest level and include many more costs than a non-fatal motorcycle accident. Items that are included in a wrongful death case include funeral fees and burial costs. You can also include the pain and suffering and medical bills that the victim had before they passed away.
For non-economic damages, you can include the loss of guardianship, mentorship, consortium, companionship, and more. Your lawyer will include items such as the loss of valuable services, the victim's current income level and future wage loss, their education, and earning capacity. You will also see your attorney add lost benefits, such as pension funds and savings accounts, to your settlement. The survivors are also important, and their circumstances will be considered. The dependents' age and the age of the victim are also reviewed. Your attorney will help guide you through the additional items that can be claimed, as there are many damages you and the other survivors may not have considered.
What Injuries Increase Motorcycle Accident Settlements?
Motorcycle accidents have a far higher fatality rate than car drivers, and that's even when motorcyclists are performing safe driving practices. If you are suffering from a short-term or long-term disability, this can increase your settlement amount. An unfortunate permanent disability will result in the highest compensation. This is often the case due to the large number of injuries motorcyclists face.
Traumatic Brain Injuries
An injury to the brain can cause permanent damage and create new disabilities. If you were not wearing a helmet, you might have suffered from a concussion or worse. Traumatic brain injuries can cause brain swelling, internal bleeding, and excessive pressure, resulting in permanent brain damage. In addition, there may be a depression in your skull near where you got bumped that caused internal bruising of the brain tissue. Brain hemorrhages may also result in long-lasting damage. Not everyone survives these kinds of injuries, and because they are life-threatening and highly disabling, they increase the settlement amount.
Road Rash
Motorcyclists often get tossed across the road, leaving them bruised and injured. You may have been dragged across concrete and disfigured after your accident. Road rash can result in facial and bodily scars that require surgery. These wounds may be superficial but are incredibly painful because of all of the nerve endings in your skin. You still will need a long time to recover from a road rash and a lot of medical treatment.
Leg Injuries
Many motorcyclists are at risk of a leg injury after an accident, as their legs are closest to the road when they get knocked over. Leg injuries often result in broken and fractured bones. Broken legs make it difficult for you to live an everyday life and perform normal daily functions. This can often require you to stay at home if you are required to move around in your occupation. While not as severe as a brain injury, leg injuries are still compensated for a lot as healing from broken bones is incredibly painful and highly inconvenient.
Spinal Cord Injuries
Spinal cord injuries are severe and can also result in long-term or permanent disability. Different spinal cord injuries you may experience include cervical, thoracic, sacral, and lumbar spinal cord injuries. If your spinal cord's nerves were severed, then you may become paralyzed. In addition, spinal cord injuries can result in paraplegia or quadriplegia, both of which take a long time to recover from. Trauma to the spinal cord can come from dislocation, high-impact crushes, and fractures.
Thorax Injuries
While on a motorcycle, your chest is exposed to the elements and can be hit during a horrific accident. You could fly into the other car and hit the hood or windshield or be flung from your motorcycle and hit the ground. These injuries are caused by high force to the chest and can result in severe wounds. Chest injuries are highly likely in a motorcycle accident and typically include broken ribs, a torn aorta, lung injuries, and more. Your lung can be bruised, punctured, or collapse during an accident. Broken ribs can accidentally puncture the organs around them. The long-term severity of this injury can make it difficult for your life to return to normal.
Amputations and Severed Limb Injuries
It is possible that you can lose fingers, toes, hands, feet, legs, and arms after a severe motorcycle accident. This can happen because a body part gets caught between two vehicles colliding. In other situations, the limb can be partially severed during the accident, where it can't be reattached later. Sometimes limb bones can be crushed and completely shattered, preventing a full recovery. This can result in amputation. In some situations, the limb can be infected after surgery and removed to protect the accident victim from dying. It is rare that an entire leg or arm is amputated, but if this happens to you, it will increase your compensation.
Learn What Your Motorcycle Personal Injury Accident is Worth
You can receive additional guidance and direction from a law firm that has your best interests at heart. After a disastrous accident, you should be compensated for all of your injuries. When you are not at fault, the other driver is liable for your damages. You can focus on healing from your wounds while your personal injury attorney supports your claim. They will work hard to obtain the compensation you are due. Contact Wattel & York today for a free consultation.