Car accidents are devastating and can cause long-term income loss. In 2019, 53,809 injuries were caused by car crashes, with 982 deaths in Arizona. If this has happened to you, you may be entitled to seek compensation for your injuries. In Chandler, car accident attorneys are trained to improve your chance of receiving a settlement and covering all of your damages. In addition, they provide advanced strategies that prove your claim to other parties.
If you were injured in a motor vehicle accident, the Chandler car accident lawyers at Wattel & York Accident Attorneys could successfully protect your rights. Our legal team understands the effects a car accident can have on you and your loved ones, so we will vigorously pursue the compensation you deserve on your behalf.
Factors That Can Determine The Value of Your Chandler Car Accident Claim
The last thing you expect when you get behind the wheel of your car is being injured in an accident. Even though auto car accidents happen daily, a severe crash can dramatically change your life. They create devastating injuries, financial pressures, or permanent disability. Regardless, you do not need to handle the aftermath of your car accident in Chandler alone.
At Wattel & York Accident Attorneys, our personal injury attorneys stand by to help if you or other car accident victims have been injured in motor vehicle accidents due to someone else's negligence. In addition, our legal team can ease your burden by dealing with insurance companies, help you connect with the needed medical treatment, and recover financial compensation for alleviating the economic impact.
When filing your car accident claim, various factors may determine your lawsuit's value and settlement amount.
Accident Severity
A key determinant of your personal injury claim is the accident's severity. While some car collisions may not cause substantial damage, that does not mean the car accident injuries will not impair the quality of your life. Considerable property damage indicates how serious and threatening the car crash is to your life, making you eligible for a large payout.
Ultimately, insurance companies may try to sway the outcome claiming light car damage means you were not seriously injured. However, seeking immediate medical help, filing testimony, and contacting a car accident lawyer will strengthen your case.
Insurance
Every American state carries regulations and rules for motor vehicle insurance, meaning under the law each driver must maintain the minimum state coverage in the event of a collision. The minimum auto insurance coverage for the state of Arizona is:
$25,000 for one person sustaining a bodily injury or death in an auto accident
$50,000 for two or more persons sustaining a bodily injury or death in an auto accident
$15,000 for damage to others' property
Due to constant increases in auto repair costs and healthcare, as a driver, you should seek car insurance above Arizona's limits to cover severe accidents.
Medical Treatment
Seeking medical attention immediately after a car accident is critical. However, please consider that waiting a day, two days, or longer to feel better or notice any injuries is a mistake that could cost you a larger payout. In addition, the at-fault party's insurance company may argue the delays in your reported injuries mean you were not harmed in the accident.
Generally, adrenaline accelerates your reflexes in a car crash by numbing you to pain or internal wounds. However, not feeling something immediately does not mean injuries are not present. So for your safety, always receive medical attention.
Type of Medical Treatment
Usually, medical treatments that require hospitalizations, fluid insertions, or surgeries are more severe than treatments that require gentle medical care or physical rehabilitation. Therefore, you will receive a settlement amount based on the duration of your recovery and the type of treatment.
Common Injuries After A Car Accident
There are many different injuries a person can suffer in a car accident. However, there are several that insurance companies and attorneys see most often.
Soft Tissue Injuries
Soft tissue injuries are among the most common injuries after a car accident. They include trauma to muscles, ligaments, or tendons. Whiplash is the most common soft tissue injury. It occurs when a person's head moves back and forth very quickly during an accident. When this happens, the neck muscles and ligaments stretch unnaturally.
There are other types of soft tissue damage, including:
A laceration is a deep cut to the skin that can cause scars and infections. A person can get lacerations in a car accident when there is a lot of broken glass.
Abrasion wounds occur when the surface of the skin is broken. Knees and elbows are more susceptible to abrasion because the skin is thin in those areas.
A contusion is a bruise that happens when blood capillaries rupture. They are usually harmless, but when they are on the brain, they can be very dangerous.
Head Injuries
Unfortunately, head injuries are common. They are the most common cause of death after a car accident. Several different types of head injuries might occur after a car accident.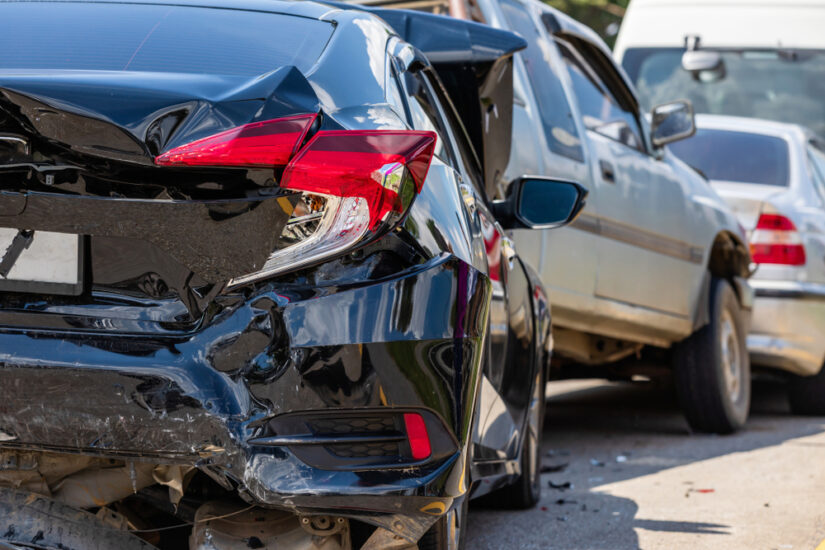 Concussion
Concussions occur when there is a sudden impact to the head. A person who has a concussion will often lose consciousness or seem dizzy and confused. Doctors will tell you to get plenty of rest if you have a concussion. The symptoms will eventually dissipate on their own.
Diffuse Axonal
When a person suffers a blow to the head, the brain structures sometimes tear. This is called diffuse axonal. It is similar to a concussion but more serious.
A victim of this condition may experience seizures, migraines, and even memory loss. Treatments for this type of injury include cognitive behavior therapy and speech therapy.
Acquired Brain Injuries
Some injuries take a long time to be revealed. When a person experiences blood loss, they may not get enough blood flow to the brain, which can cause brain injury. Injuries to the lungs can cause a lack of oxygen to the brain.
A person with this type of injury may experience dizziness and fainting spells. They can go into a coma. The treatment will vary depending on the injury.
Coup-Contrecoup
When there are injuries to both sides of the brain, it is called a coup contrecoup. The condition occurs when the brain is jolted around in the skull.
A person with this condition may experience dizziness, fainting spells, or even coma. They may slur their words and have a sensitivity to loud noises. The condition is normally treated with physical therapy.
Chest Injuries
If you have a chest injury after an accident, you will likely need surgery. Chest injuries can include minor contusions, broken ribs, damage to the lungs, and internal bleeding.
Seat belts and airbags are two very effective safety features on any car. However, they can cause broken ribs when a person is pushed against them during an accident.
Chest injuries can result in shortness of breath, changes to the heart rate, coughing up blood, and low blood pressure.
Broken ribs are very painful but will heal over time. If you have lung damage, you may need oxygen therapy and pain medication.
Injuries to the Back
The spine is one of the most important and delicate parts of the human body. When a car crashes into a person, it can cause major damage to the spine. Spinal injuries are not always immediately apparent. The longer you wait to treat a spinal injury, the more serious it will become.
Symptoms of a back injury can be as minor as pain and tenderness or as serious as paralysis.
A person with a spinal injury may need surgery, medications, and physical therapy.
What to Do After a Car Accident
After you are in a car accident, you need to begin taking steps toward building your personal injury claim. It will require documentation on your end, in addition to written personal accounts of what happened.
Gather Evidence
Pictures are reliable and solid evidence representing what happened on the day of your accident. You can take photos of the damage to your car, your wounds, and the area where the accident occurred. These will all add up and match the story you provided to your lawyer. Record how you felt, the pain and suffering you experienced, and any details while it is fresh in your mind. This helps prevent inconsistencies and confusion later when forgetfulness begins.
Your Input on the Police Report
Do not neglect the police report and if you can, wait for the police officer to arrive at the car accident to record it. You will want to be as honest as possible and tell them if you were injured, how the car accident happened, and what you did while driving. If you are a pedestrian, you will want to describe where you were walking. This will provide reliable evidence because the police report will include your input and the other parties' accounts. Naturally, police officers will go with the most logical and reasonable story.
Get Medical Help
You should see a doctor as soon as possible to have your injuries treated. If you delay this, you might make your injuries less convincing. A doctor will explain the extent of the physical damage and give you treatment for the pain. Additionally, you can discover soft tissue injuries early before they cause severe damage.
Keep Track of Expenses
The expenses caused by your damages will increase over time. Ensure you keep all medical bills, receipts, and costs you were required to pay because of your car accident. You will need to include wage loss and any projected income loss in the future. These losses are not your fault and will be included in the settlement.
Include Non-Economic Damages
In addition to your physical injuries, you will need help with your pain and suffering damages. This includes pain from physical wounds and emotional distress. For example, you might have PTSD from driving and anxiety getting back on the road. Other problems include shame, embarrassment, depression, emotional anguish, or other painful emotions. These are part of your settlement and will be calculated by your attorney.
It is very important to document non-economic damages thoroughly since getting compensation for them can be difficult. Keep a journal of your daily life and note how it has changed due to your injuries. Visit a mental health professional if necessary and have them write you a report.
If you have lost a job or an intimate partner because of your injuries, you will want to include that information. There are things that might be difficult to talk about, but you are entitled to compensation for them.
Wrongful Death
Car accidents are one of the major causes of wrongful death. 11.5 deaths per 100,000 people occur due to motor vehicle-related accidents. If your loved one has passed away and you are a spouse, parent, child, or dependent, you can receive a settlement on behalf of the victim. In addition to general economic and non-economic damages, you can claim loss of companionship, nurturing, guidance, and mentorship.
Spouses can claim loss of consortium and partnership. The income of the victim's remaining lifespan is included in the settlement and the value of their services. You can also claim damages for the burial costs, the funeral, and the medical bills accrued before their passing. There may be additional damages you can add to your settlement, so speak with your Chandler car accident lawyer to learn more about personal injury cases.
Speak to a Chandler Car Accident Attorney
If you need help with your settlement claim, you can work with a competent team of legal professionals who understand how to represent your case. For example, you can talk to car accident attorneys who understand what you are experiencing and the type of damages you might have. They will use your evidence to negotiate a settlement with the responsible parties. If the other party disagrees, your attorney will file a lawsuit on your behalf and represent you before the jury. To get started, speak with a committed legal firm today. Contact Wattel & York Accident Attorneys now for a free consultation.
Our car accident attorneys will investigate all the evidence available to handle your personal injury claim. Our legal team will fight for you to pursue maximum compensation for your injuries or property damage. We understand evaluating the facts related to a car accident requires skills, compassion, and knowledge. Our Wattel & York Accident Attorneys team offers exceptional legal representation by examining all components of your car accident case, so you can focus on your recovery and getting well.
In addition to motor vehicle accidents, our personal injury attorneys handle slip and fall accidents, truck accidents, wrongful death, motorcycle accidents, medical malpractice, nursing home abuse, and much more. Our Chandler, AZ, car accident lawyers care about you and all car accident victims, meaning we will work diligently to receive justice.
We believe in working personally with you and showing the compassion you deserve. Any car accident can impact your life. Contact us today to schedule a free consultation with a Chandler car accident lawyer. We are here to help.
FAQs
Do I have to go to court for a car accident in Chandler, AZ?
Going to court for a motor vehicle accident is relatively rare compared to settlements. But you could take your case to court if you cannot agree with the payment. However, it is best to first talk with a car accident lawyer in Chandler to advise and guide you throughout the process.
Can I afford a Chandler car accident attorney?
Our personal injury attorneys work on a contingency basis, meaning that you do not pay for our legal services unless we win the case for you. Our team will exhaust all resources to prove your personal injury case and win the damages you deserve to cover your expenses. If you are stressed out and injuries prevent you from working, do not delay contacting us.<
What is an Arizona statute of limitations?
Arizona's statute of limitations for personal injury and wrongful death cases is two years. The statute of limitations is the maximum amount of time you have to initiate legal proceedings from the date of the accident. After this point, no court will hear the car accident case, even if the claim is valid.
I was involved in a car accident outside of Arizona State. Can I still get an Arizona car accident attorney?
Your personal injury attorney must be licensed in your car accident state. However, if you have suffered injuries in a collision in Arizona and live out of state, you can still get a personal injury attorney, and Wattel & York is here to help.
The at-fault party's insurance company wants to send me a check. Should I take it?
Before agreeing to any offer, please talk with a car accident attorney. You may be eligible to seek other types of damages you may not have been aware of. To ensure you get the compensation you deserve, consult a lawyer who can guide you through the process.
How long will a personal injury claim take?
A personal injury case can take a few months to a few years. If your case is very cut and dry and the insurance company offers your reasonable settlement right away, it may only take months. If a personal injury lawyer has to negotiate on your behalf, it could take even longer. If you have to go to court, you can expect the process to take over a year.
What Sets Us Apart
Many attorneys handle car accident claims in the state of Arizona, and you may wonder why you should choose us.
With over 30 years of experience in personal injury law, founding member David E. Wattel is licensed to practice law in three states. Through the American Institute of Personal Injury Physicians, he trains doctors to document injuries for insurance settlement claims.
Representing thousands of personal injury clients in car accident cases over the years, founder Michael York has helped to make significant changes to Arizona's insurance coverage laws.
Our online reviews will let you know our clients are thrilled with our work. We have the experience to negotiate the best settlement possible with any insurance company. If your case goes to court, we can represent you in a car accident lawsuit, so call us today.